Be sure to fill out the Service request form! Click here to get that form!
Fishing Reel Repair Services. We have been providing fishing reel repair services for over 30 years. During that time, we have accumulated over 6000 individual parts representing most major fishing reel manufacturers. Our shop provides the best servicing available in the Fishing Reel Repair business. We Currently are able to return most reels to their owners in 4 weeks or less after receiving them for service and repairs. Many are returned in just a couple of days! In the event that we don't have parts in stock for a repair, we order them ASAP or fabricate new ones.
Here are some of the Manufacturers that we support:
Shimano, Abu Garcia (Ambassadeur), Daiwa, Quantum, Zebco, Okuma, Penn, Pflueger, Accurate, Avet, Browning, Dam Quick, Fin Nor, Lew's, Mitchell, Pinnacle, Tica, Shakespeare, AND MORE!
Fishing Reel Service Fees:
Service
Service: $16.00*(See Note on home page) Per Reel! Includes fully disassembling the reel, cleaning and inspection of each part for damage and wear. Worn and/or damaged parts that hinder the performance of the reel will be replaced. The Reel is then Re-lubed and re-assembled, bench tested and tuned for optimum performance. Parts, Sales Tax and return shipping are not included in this price.
Saltwater
Salt Water Surcharge: $10.00 Per Reel. Fishing reel(s) that have been used in a saltwater environment and not properly cleaned suffer extensive damage. Properly taking care of these reels requires extensive supplies and labor to return them to operational status. We highly recommend the cleaning and treatment of fishing reels used in saltwater with "Salt-away"! We provide 4 oz spritzer bottles of 10% Salt-Away for those interested. The shop reserves the right to add this surcharge to reels that are brought to the shop in this condition.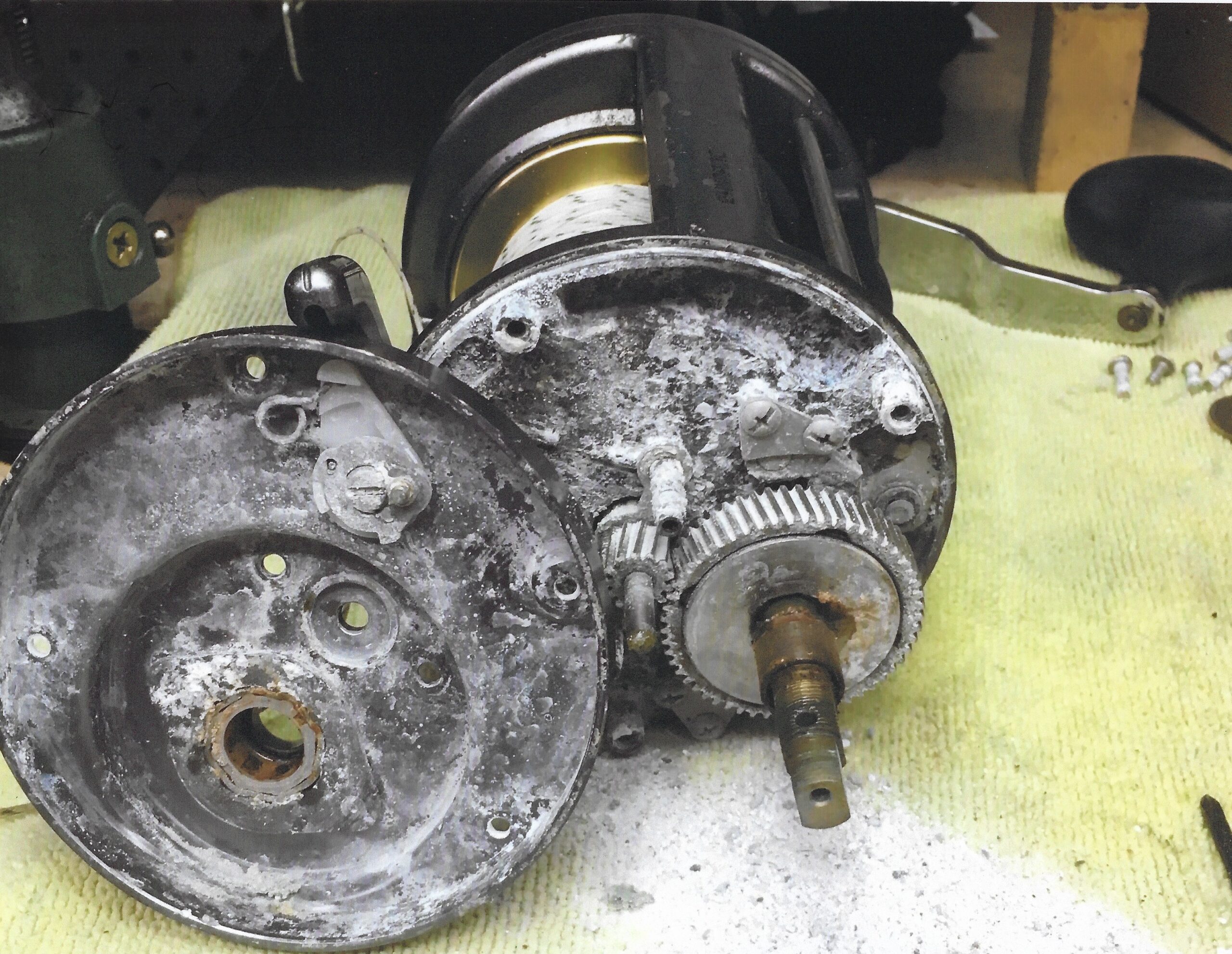 Bait Residue
Bait Residue Surcharge: $10.00 Per Reel. Fishing reel(s) that are used with baits that leave residue on the reel and are not cleaned off properly require special cleaning. This means more in cleaning supplies and labor to make them functional for years to come. The shop reserves the right to add this surcharge for reels that are received in the shop in this condition.
Special Services
Special Services: $$$$ Per Reel. At times, reels that are even reasonably new will require special fabrication of unavailable parts. The shop reserves the right to charge for this service case by case.
Custom
Custom: $$$$ Our shop is able to provide custom tuning and upgrades. This includes replacement of original bearings with a broad Varity of after market bearings. Also available are ceramic line guide pawls, titanium line guides and more! Email or call! We are glad to provide quotes.
How do I get my reel to you?
Ship To or Drop at the Shop:
Rollin' On The River Rod & Reel Repair
280 Swiss Ave
Montesano WA 98563
Phone:509-834-0920